Assessment Tools
All customers of ADE Incorporated (excluding the Georgia Risk Reduction Program) have free access to both of our online database tools, the Professional Assessment Software Suite and SolutionsPro. PASS houses ADE's legacy substance use assessments, the NEEDS, SALCE, and JASAE, while SolutionsPro includes an ever-growing library of different behavioral health assessments.
ADE's assessment tools are tested and proven, making them the perfect tool to get clients on the right path. These tools are instrumental in creating a quality assessment process and efficient gathering of client data. Professionals will notice more effective time usage, confirmation/clarification of assessment results and standardized assessment data or reporting. The result is a "best practices" model to evaluate individuals for substance abuse and behavioral health issues.
In both databases, once a survey is complete, results are generated immediately! These results can then be printed, or you can return to them at any point in your PASS or SolutionsPro database.
To learn more about each individual assessment tool and how to get a FREE, no-obligation trial of either of our software options, click the desired assessment below, or go directly to free trial sign-up.
Benefits of Self-Reported Assessment Tools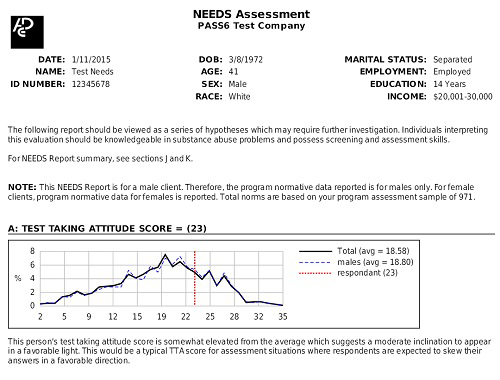 Minimizes Risk
Eliminates human variables
Confirms and clarifies interview results
Builds an objective assessment process
Generates Reports
Generates a scored report
Develops norms based on population assessments
Reports measures on individual and total population
Confirms Data
Collects standard data on each client
Creates a benchmark as start of evaluation
Incorporates multiple surveys for outcome or follow-up measures